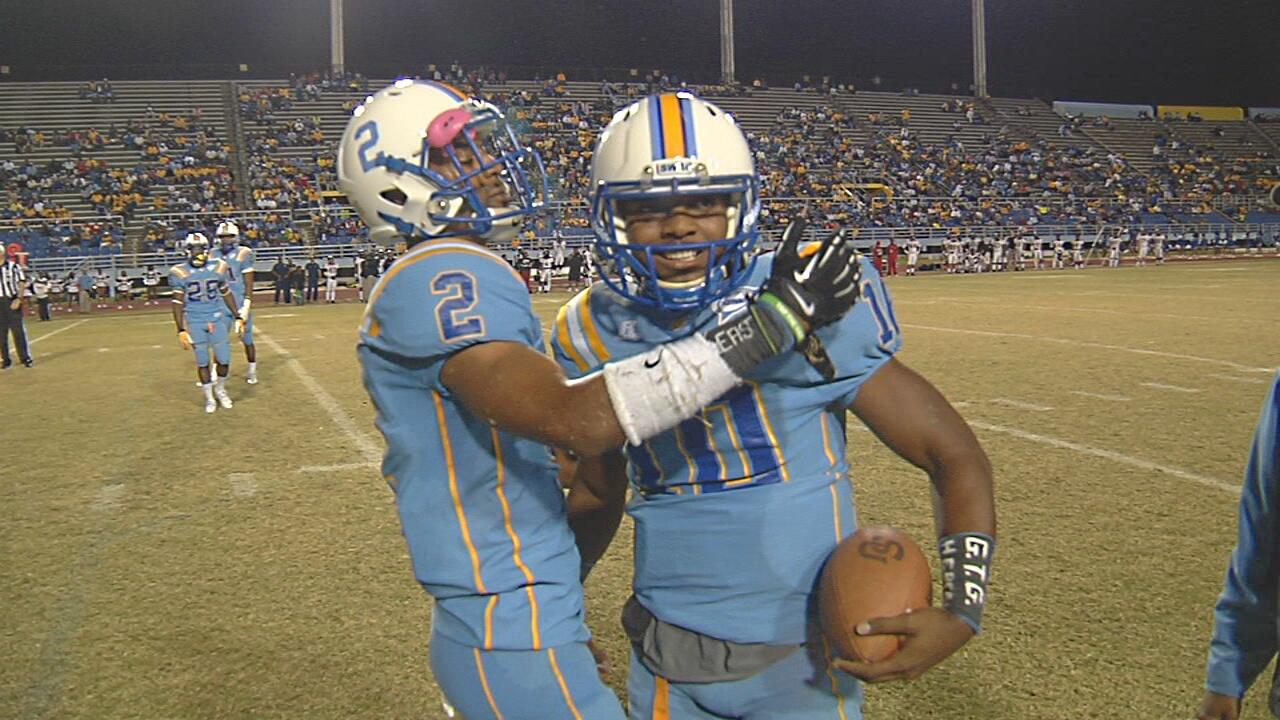 Dray Joseph and Lee Doss capped their Southern careers with a SWAC Championship. (Brian Holland photo)
Ten years after last hoisting the Eddie Robinson Trophy, Southern has climbed its way back to the top of the SWAC. Southern defeated rival Jackson State 34-27 in double overtime on Saturday to claim its first SWAC Championship since 2003.
Southern led 20-10 in the third quarter before allowing JSU to score 14 points in 13 seconds. And that was only the start of the madness. Southern mounted a 20 play, 99 yard drive that ended in a one-yard run by Darrius Coleman to take a 27-24 lead with less than five minutes to go. After a stalled drive with time running out, JSU kicker Ryan Deising missed a 37 yard field goal as time expired, however Southern coach Dawson Odoms had already called a time out. Deising made good on the second kick, so the teams went to overtime.
Both teams shot themselves in the foot in overtime, as JSU quarterback Clayton Moore had his pass picked off by Anthony Balancier and Southern's potential game-winning kick was blocked.
Black College Football At its Best. #SWACChampionship
— Isiah Ferguson #14 (@Ferg_2bg) December 7, 2013
//platform.twitter.com/widgets.js
Southern's passing duo of quarterback Dray Joesph and Lee Doss hooked up one last time for a 16 yard touchdown that gave the team a 34-27 lead. The game appeared to be headed for a third overtime as Moore saw a wide-open Tommy Gooden all alone in the endzone. Unfortuanately for JSU, Gooden caught the ball out of bounds, and the game went to Southern.
😳😳😳 WILD finish to the SWAC championship game. What a great game tho!!! Congrats Southern Univeristy!!! #SWACChampionship
— Terron Armstead (@T_Armstead72) December 7, 2013
//platform.twitter.com/widgets.js
All year long, the SWAC has been critiqued and criticized for its lack of competitiveness. It has been the butt of jokes both in-and-out of the HBCU football world, from fans and media alike. (See:
The SWAC Needs It's Swagger Back
). And while much of that criticism has been reserved, Saturday's championship game showed that there is still much hope for the conference.
http://c.brightcove.com/services/viewer/federated_f9?isVid=1&isUI=1